BME Open House Welcomes Students
Quick Summary
Held November 3rd, the BME departmental open house welcomed and equipped students with cookies, lab tours, and information on programs, resources, and student clubs
On Wednesday, November 3rd, UC Davis' Biomedical Engineering (BME) Department held an open house for all students. This event originated as a recommendation from the department's Health Equity and Wellness Committee and was quite well attended by students, faculty and staff.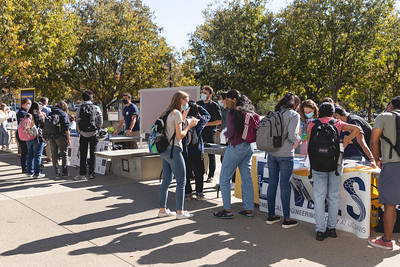 The primary purpose of the BME Open House integrate our new students into the BME community. Student advisor Christal Wintersmith says that the event offered several benefits for students. "They were able to connect to the BME community here at Davis, which reduces barriers to seeking advice and getting help. Also, they learned how to connect with labs and take part in undergraduate research experiences."  
The most popular aspect of the open house, the lab tours were led by current graduate and undergraduate students and visited the labs of Drs. Carney (spectroscopy and cancer diagnostics), Cherry (biomedical imaging, nuclear imaging), Sivasankar (cell adhesion, molecular and cell biophysiology), Yamada (cell adhesion and tissue formation), Louie (non-invasive diagnostic imaging), Xue (computational optics), Passerini (atherosclerosis research) and the TEAM lab (facilitating development of research equipment by way of state-of-the-art manufacturing equipment).  
Several student organizations also came out and invited students to join. These included BMES (the undergraduate Biomedical Engineering Society chapter), BESA (the graduate Biomedical Engineering Student Association), Student Voices, the Optics Club, and BioInnovation Group (BIG). The BRaIN (Biomechanics, Rehabilitation, and Integrative Neuroscience) Lab came and shared information about an experiment .  
The entire BME department has this parting advice for all students: "Get involved, make connections, and understand and utilize your resources."