BME Career Paths
Our graduates have a strong foundation in mathematics and engineering principles, which when combined with their understanding of the physical and biological sciences results in a diverse skill set that can be applied to a wide range of careers.
A bachelor's degree in biomedical engineering provides interdisciplinary training that prepares you well for engineering practice, academic or clinical research, healthcare, education, service, or related activities, or for graduate or professional studies.
Biomedical engineers are currently in high demand to meet the needs of the healthcare and medical device industries.
Forbes ranked biomedical engineering as the No. 1 most valuable major in 2012.

U.S. News and World Report ranked "biomedical engineer" as the No. 5 best engineering job in 2018.

In 2017, the median pay for a biomedical engineer was $88,040 per year, according to the Bureau of Labor Statistics.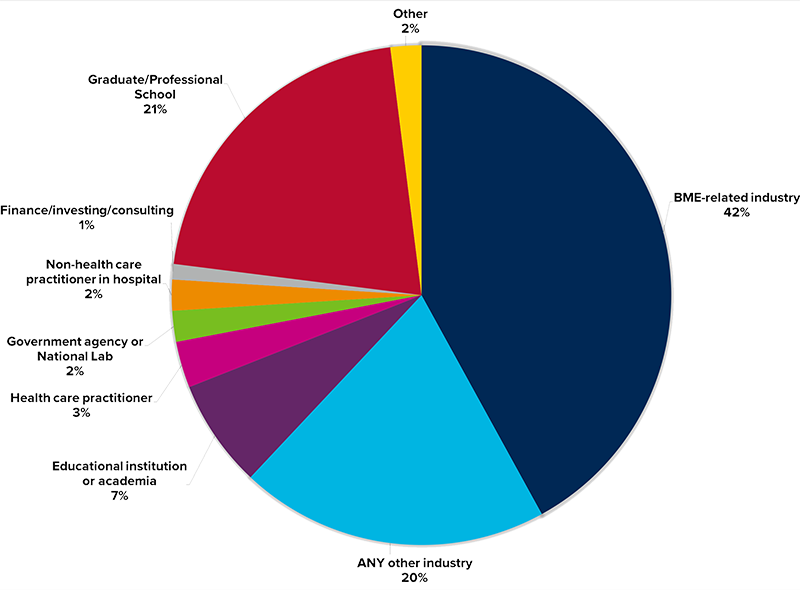 Graduate and Professional Study
34 percent of our alumni attend graduate school in a range of disciplines such as:
Biomedical engineering.

Mechanical engineering.

Other engineering.

Biological sciences.
14 percent attend professional school in:
Healthcare fields (medical, dental, public health, orthotics/prosthetics).

Business.

Education.

Law.
Industry Careers
As shown in the pie chart, our graduates work in a variety of sectors including: 
Medical devices.

Pharmaceuticals.

Diagnostics.

Research equipment manufacturers.

Biotechnology.

Software.