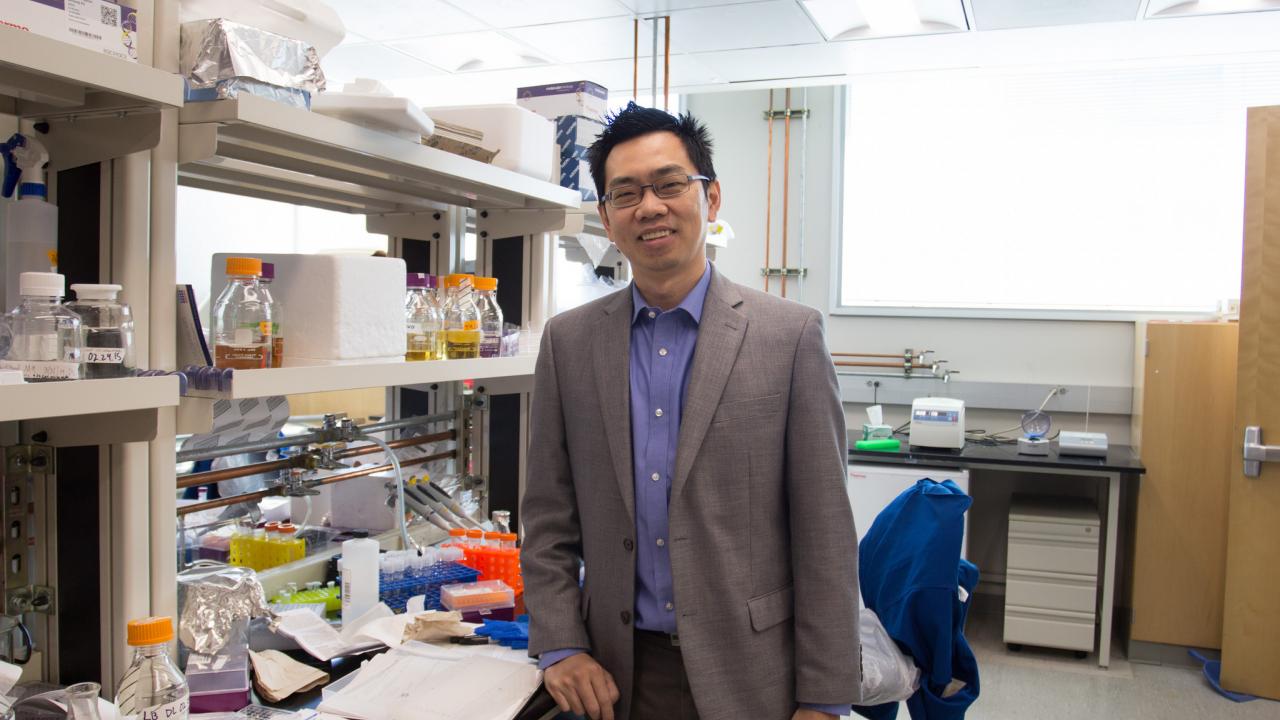 Award supports lab's research into cancer-drug discovery using synthetic cells
The UC Davis Biomedical Engineering Department congratulates Dr. Cheemeng Tan on being named a National Institutes of Health (NIH)/National Institute of Biomedical Imaging and Bioengineering (NIBIB) Trailblazer Award recipient.
This prestigious three-year award will support and enhance his lab's research into operating principles of cells and applying them to biomedical applications. The NIH/NIBIB specifically chose Tan for the honor due to his idea to create and use synthetic cells for developing effective anti-cancer therapies and improving drugs' effectiveness.
"My entire lab and I are excited and honored that our bold idea has been chosen for a 'Trailblazer Award,'" said Tan. "This generous award will allow us to expand our work in bottom-up and synthetic biology to help people with cancer get the best and most effective treatments possible."  
As Tan explained, while cancer tumors are heterogeneous, they often are treated with homogeneous anti-cancer therapies. With the award's help, the Tan team will be able to study the effectiveness of drugs in inhibiting heterogeneous signaling pathways that control the survival and proliferation of cancer cells. The lab's ultimate goal is to discover robust and effective anti-cancer drug-treatment combinations for patients.  
Tan joined the UC Davis College of Engineering faculty in 2013. He leads the Synthetic-Cells Lab, which focuses on the engineering of biomimetic cells from the bottom-up for protein optimization, biosensing and drug discovery. His group also uses synthetic-biology approaches for studying antibacterial and anti-cancer treatment.
He previously received a Branco-Weiss Fellowship and a Young Investigator Grant from the Human Frontier Science Program. He also was selected as a Biomedical Engineering Society Cellular and Molecular Bioengineering Young Innovator as well as a Scialog Fellow.
The NIH/NIBIB Trailblazer Award is an opportunity for new and early-stage investigators to pursue high-risk and high-impact research programs of high interest to the NIBIB at the interface of the life sciences with engineering and the physical sciences.
Congratulations, Cheemeng!
Category
Tags