2023 Zuhair A. Munir Award Recognizes Pathbreaking Dissertation on Gene Editing
Biomedical engineering Ph.D. Shahin Shams shows how genetically modified messengers can help the body heal itself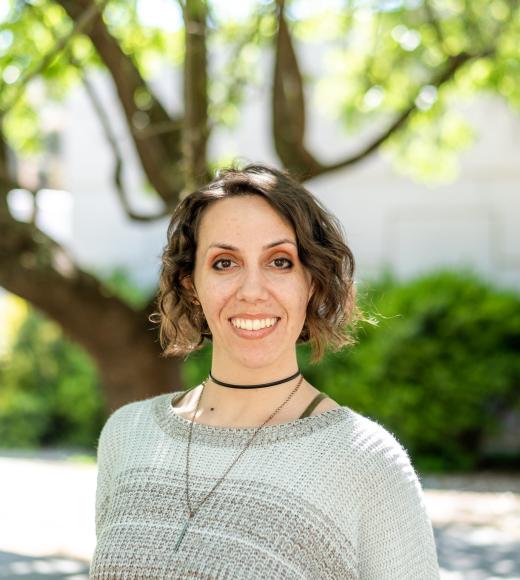 If engineering is the translation of science, then Shahin Shams, a Ph.D. in biomedical engineering from the University of California, Davis, adds another level of complexity to that maxim: "capable of bringing pathbreaking ideas to life." 
Her doctoral research proves, for the first time, the feasibility of using gene editing to promote angiogenesis, or the development of new blood vessels, in living tissue. As a member of the Biomedical Engineering Graduate Group at UC Davis, she is the 2023 recipient of the Zuhair A. Munir Award for best dissertation from the College of Engineering. 
The college established the award in 1999 in honor of Distinguished Professor Emeritus Zuhair Munir, who served as its associate dean for graduate studies for 20 years and dean from 2000-2002. Munir is known for his innovative, consequential research in materials science and engineering, such as being among the first to explore combustion synthesis. 
Shams received her Ph.D. in biomedical engineering under the mentorship of Associate Professor of Biomedical Engineering Eduardo A. Silva in 2022. She received her bachelor's degree in biomedical engineering from UC Davis in 2016. 
"The Zuhair A. Munir award is one of the greatest honors — if not the greatest honor — that I have had so far in engineering and across the board," Shams said. "It doesn't feel real, the fact that I'm being honored by a school that I've been at for 10 years and has always been so supportive of everything that I've wanted to do. 
"[When] you go into a program, you really hope to contribute something to it. It means everything to me that, for a little over four years of my life, where I took a lot of risks, networked with a lot of people, and was able to get input from some of the best scientists in their fields, I received the help I needed to make something I'm truly proud of." 
Engineering Something from Nothing 
Shams conceived, designed and executed her doctoral research program by herself. The initial idea for it, she says, came to her while sitting in the lobby of Kemper Hall, looking out onto the courtyard from a window seat. 
"Talking to my mentor [Assistant Professor Roberta Stilhano at the Santa Casa de São Paulo School of Medical Sciences], she had mentioned that gene therapies carry a gene, but they also have a lot of proteins that are within them that allow for the virus to function as it should," Shams said. "I thought, 'If there are proteins that are packed within that, then why can't we package a gene editor in there as well?'" 
While Shams had come up with the idea on her own, it turned out that someone had produced similar research years before. Yet, scientists had not touched the idea since, and Shams wanted to do something different. She wanted to lend credibility to using biomaterial delivery systems in living tissue by defining the application of gene editor packaging on a nanoparticle-by-nanoparticle basis. 
Driven by her research program's potential for impact and uniqueness, Shams presented it to Silva, who was supportive if not cautiously optimistic. For one, she would have to dive into gene editing and gene therapy classes for the first time, which required her to understand biological concepts far beyond what the average biomedical engineer needs to know.  
Thankfully, due to research she had been working on in the Silva Lab, she had already collaborated with faculty in the Department of Pharmacology at UC Davis Health. Shams leveraged those connections to help her find graduate coursework in gene therapies and advanced genetic analysis. 
From the list she received, she took GGG 201A – Advanced Genetic Analysis, a foundational, 5-unit course for graduate students in the genetics program at UC Davis. She was the only engineer in the class. 
"I had to buckle down, get out of my comfort zone of how to study and just try to adjust to [the new field]," she said. "Thankfully, it worked, and it was nice to step outside of engineering in that class." 
Bolstered by the new knowledge, Shams began work on her interdisciplinary dissertation to develop a system that can address localized hypoxia, or the loss of oxygen, in human tissue, spanning the fields of biomedical and genetic engineering, materials science and molecular biology. 
A Gene Editing Knockout  
Her research resulted in the dissertation, "EGLN1 Targeted SpCas9 Encapsulating VLPs for Proangiogenic Cascade Activation and Their Delivery via Alginate Hydrogels." 
Through it, Shams demonstrated that virus-like particles, or VLPs, the nanoparticles derived from viruses like HIV, can encase SpCas9 — the most common and effective tool for gene manipulation. These VLPs would then be inserted into alginate hydrogels for delivery into the body, where the hydrogels safely break down after a time to release the VLPs. 
Shams used these molecular messengers to target and knockout the gene EGLN1, which encodes the protein primarily responsible for regulating adaptive responses to oxygen levels in living tissue, such as angiogenesis, or the development of new blood vessels. By targeting the protein, hypoxia and cell death can be avoided. 
"When hypoxia first begins, it's more of a mosaic effect: out of 100 cells, five may be in critical danger of dying because they're not getting enough oxygen, which would exacerbate over time," she said. "In order to rescue those five cells, then we're going to modify all the other cells in that location so as to pitch in to create a more positive environment that allows for a blood vessel to invade that area." 
In other words, Shams' modified VLPs trigger the body's internal response to heal itself. This early-stage intervention method suggested by her may elicit an improved healing response in cells at risk of hypoxia over strategies introducing new cells into the tissue. 
In addition, Shams established the first quantification system for dosing estimations of SpCas9 VLPs and was the first to determine that VLPs can be delivered from biomaterials, furthering the viability of using nanoparticles to deliver gene editing packages into living tissue for localized and targeted therapeutic applications. 
Concurrently to Shams' work, several other research groups, including that of Jennifer Doudna, the Nobel laureate who pioneered CRISPR gene editing, have successfully utilized the same technology. 
A Dynamic State 
From childhood, Shams was taught to investigate the world around her. She's moved by the "dynamic state around us" — a term she uses to describe the wonderment for the world her mother and father instilled in her. 
"My parents were always fostering those questions to look deeper into how things work, and that allowed me as an adult to explore possibilities with the understanding that my research may not work out," Shams said. 
That unyielding curiosity may explain why she took on the task of graduate courses outside of her program or designing a novel dissertation all on her own. It may also explain why she now hopes to go into law school to become a patent attorney. 
"Us scientists always talk about the Valley of Death," she said. "You're getting published, you're getting a lot of these possibly groundbreaking results, but translating that to the market, there's this huge gap [and that's the Valley of Death].  
"There's this critical need of individuals that understand science to take research to that next step, whether that be through policy, whether that be through law, because that's how you can get that investment and take it forward, getting therapies into the hands of the people that need it."  
Her dream law school? UC Davis, of course. 
"UC Davis has been critical for me to get where I am," she said, holding back a tear. "It really has been a home. Everyone looks for a place like that, and I think I found my place." 
Primary Category
Secondary Categories
Tags