Two College of Engineering Graduate Students Hone Skills as "Professors for the Future"
Goldbloom-Helzner and Niesen are among just 15 scholars to earn coveted spot in 30th cohort of PFTF
Leora Goldbloom-Helzner and Abby Niesen know that achieving career success takes more than desire and hard work; it also requires skills and preparation. 
The two fifth-year Ph.D. candidates are developing both in spades, thanks to earning coveted spots in the 15-member cohort of the 2022-2023 UC Davis Professors for the Future Program, or PFTF. 
As they conclude their biomedical engineering, or BME, research at the College of Engineering, Niesen and Goldbloom-Helzer say they feel more empowered and confident to pursue careers in academia and industry after graduation. 
"Before… I didn't feel prepared," said Niesen. "There's a difference between wanting to do something and knowing I can succeed in this." 
In its 30th year, PFTF has equipped hundreds of graduate and postdoctoral students to lead in highly competitive job markets by providing a year's worth of seminars and workshops, guest speakers, leadership development opportunities, teaching training and support in executing a final project to serve fellow students and scholars. 
Goldbloom-Helzner develops passion for teaching through PFTF 
When Goldbloom-Helzner first began researching stem cells at UC Davis, a career in scholarship had not yet crossed her mind. But since serving as a teaching assistant in BME, and through PFTF workshops and activities, Goldbloom-Helzner has discovered a heart for teaching.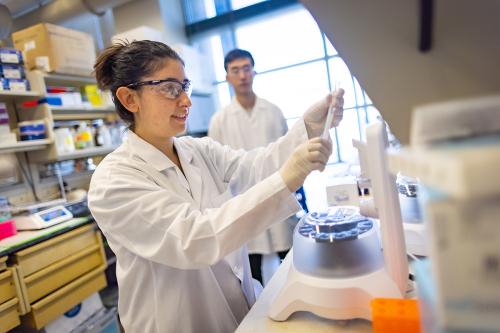 As part of the cohort, Goldbloom-Helzner got to experience what professors do every day. She experimented with active learning and engagement strategies that pair short bursts of lecturing with hands-on activities. She wrote a course and prepared a syllabus. And she designed and delivered a 25-minute "micro-teaching" experience to her peers on her research.  
Goldbloom-Helzner's presentation expounded on her work in looking for ways to design targeting nanoparticles secreted by stem cells to repair or reverse spinal cord injuries and neurodegenerative conditions. 
Through a year in PFTF, she has realized higher education involves a lot more than teaching. For most professors, it includes starting and running a research lab. 
Translational lab work has been critical to Goldbloom-Helzner's research. In fact, she chose to study at UC Davis because of the vibrant collaboration across the College of Engineering and the School of Medicine's surgical lab. Yet, there has been no coursework or training on what it takes to start a new lab. Department professors told her they learned how to do so merely through trial and error. 
"We need to address these skills that graduate students don't feel like they're getting," she said. "We need to make this more about skill and less about luck." 
Thus, her PFTF final project is entitled, "What They Don't Teach You in Grad School: Resources and Support for Starting an Academic Laboratory." The three-part workshop series will give participants a toolkit including how to apply for grants, negotiate and spend startup funds, navigate time management issues and lead a team through conflict resolution. 
While landing jobs in higher education is highly competitive, Goldbloom-Helzner has an edge now thanks to PFTF. 
"I worked really hard to get into this program," she said, "and I'm very grateful to be given an opportunity to be part of it." 
Abby Niesen is ready for an industry career thanks to PFTF 
Abby Niesen was not aware that higher education might be a career option when she first enrolled in the College of Engineering to study in BME's Orthopaedics Biomechanics Lab.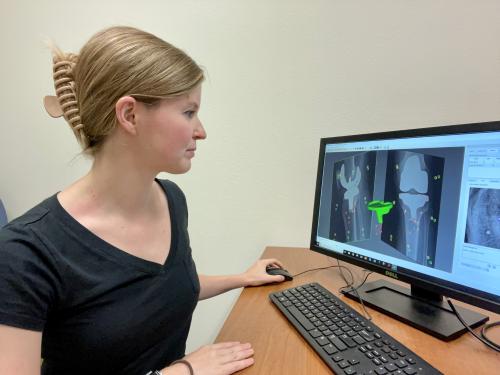 Having gotten involved in rock climbing with people who have partial amputations, some of whom are climbing with prosthetics, Niesen was inspired to apply her undergrad engineering studies to doctoral research on the human body; specifically, to the knee. 
Along the way, Niesen taught six BME undergraduate classes, and a love for teaching blossomed. 
"Meeting with the students every week and being part of their educational journey was a really rewarding experience," she said.   
That's why she applied to the PFTF cohort.  
"The PFTF Fellowship has definitely made me feel more prepared to go into academia, should I choose that route, because of the resources that are offered," said Niesen. "Before, I was interested, but I didn't feel prepared to do it. There's a difference between wanting to do something and knowing I can succeed in this." 
With plans now to enter the industry workforce after graduating, Niesen chose to focus her final project on paying it forward – empowering other women working in STEM fields (science, technology, engineering and math) the way the PFTF program has helped to empower her.  
On April 18, Niesen hosted an informal panel titled "Empowering Women in STEM: Perspectives on Self-Advocacy from Leaders at UC Davis" aimed at increasing representation in the field through conversations about self-advocacy.  
"Women, in particular, want to pursue STEM, but then sort of get discouraged along the way," Niesen said, citing data from the National Science Foundation in which women make up just 29% of the workforce in STEM fields. Her project is designed to equip women "to speak up for themselves so they can have their needs met and stay in those fields." 
Although PFTF accepts just 15 participants at a time, reaching hundreds of students during its 30 years, Niesen would love to see more students and scholars access the program. 
"My hope is that, over the next 30 years, they're able to grow it even more. There are so many people that could benefit from this program," Niesen said. "It's a very competitive program. To be part of it today is very humbling."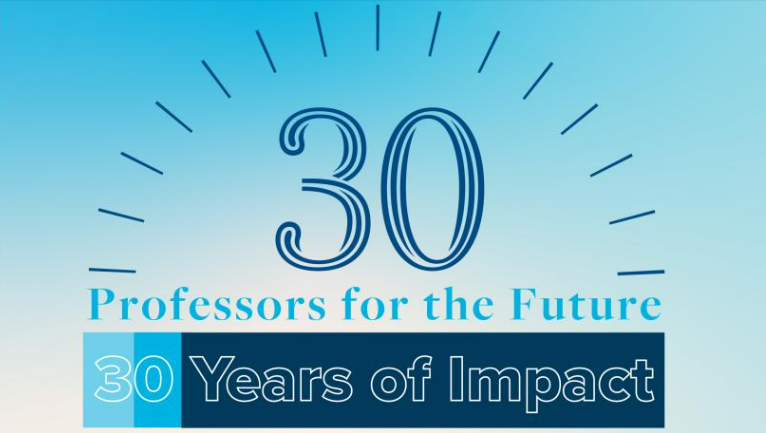 30th Anniversary Celebration
Professors for the Future will be hosting a 30th Anniversary Celebration this spring. It will include networking events for graduate students that will feature PFTF alumni. 
Primary Category
Tags