BME Student Shannon Lamb Wins National Science Foundation Fellowship
Lamb to Study Machine Learning Algorithms Used to Diagnose Mental Health Disorders
UC Davis biomedical engineering student Shannon Lamb '22 was awarded a fellowship from the National Science Foundation (NSF) to research why machine learning algorithms sometimes fail to distinguish between the most commonly misdiagnosed psychiatric disorders – depression, bipolar and schizophrenia.
The NSF grant is awarded to graduating seniors with a research idea that shows promise. Lamb's research aims to help create more accurate tools for future psychiatric studies.
"Schizophrenia, bipolar and depression are the three most commonly misdiagnosed diseases and most commonly misdiagnosed as each other. There are multiple forms of each," said Lamb, who plans to enter into a doctoral program in bioengineering at the University of Pittsburgh in fall 2022.
As a result, Lamb says many patients are prescribed the wrong medications, which often increases their suffering and those close to them. Lamb knows this firsthand. Several people close to her were misdiagnosed and prescribed psychiatric drugs that worsened their mental disorders throughout her high school years.
Lamb seeks to improve diagnostic technologies
A desire to solve this problem through science drove Lamb to attend UC Davis as a biomedical engineering major with a minor in neuroscience.
The use of machine learning algorithms (MLAs) to diagnose and treat mental illnesses is a new development in psychiatry. When machines are given brain scans of individuals with one of these disorders and are asked to compare the scans to healthy brains, the machines have a nearly perfect rate of correct identification. But, when they are asked to distinguish between brain scans of people with various psychiatric disorders, the machines' accuracy falls dramatically.
"Due to the high rates of misdiagnoses among patients and the inability for algorithms to differential between disease states accurately, I began to wonder if the reason lay in the training data," Lam said. "If the data set used to train MLAs contained misdiagnosed individuals, that could be the reason that they struggle with accuracy. So, I proposed a study that looked for these discrepancies, as well as provide an overview of the overlap between three psychiatry disorders."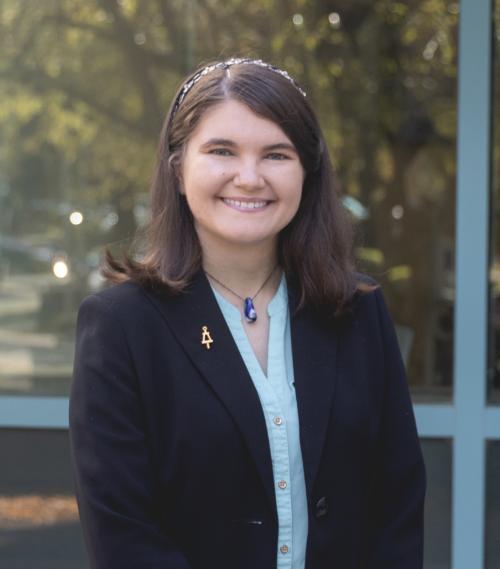 Diagnostic technology less available to minority communities
Datasets utilize a variety of scans, including magnetic resonance images (MRI), functional magnetic resonance images (fMRI) and electroencephalograms (EEGs). However, they are expensive for patients, making them less available to the low-income and minority communities, who often experience higher rates of mental health crises than more affluent and majority communities.
The NSF fellowship requires grantees to conduct research that collaborates with and serves minority and diverse communities. Lamb was already motivated to conduct research with and for minority groups, partly due to her LGBTQIA+ status and low-income background.
As past president of the Engineering Honor Society for two years and mentor/mentee chair for the Biomedical Engineering Society, Lamb's research proposal included plans to draw minority students into her research by partnering them with mentor students who have more experience in machine learning.
Lamb credits UC Davis faculty and staff for academic freedom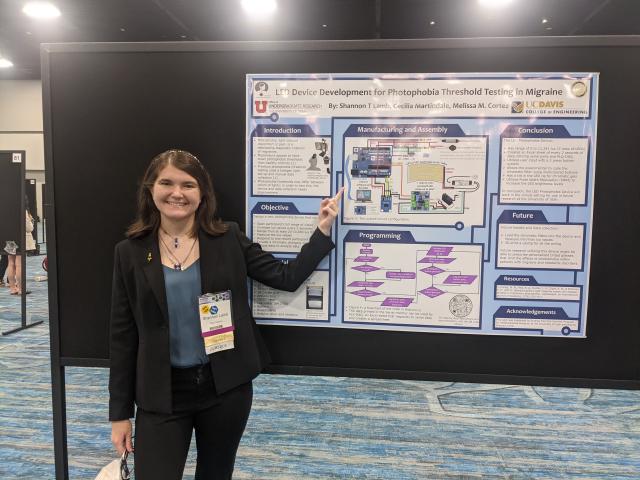 Lamb credits the staff and faculty at UC Davis for helping her succeed in her undergraduate program. She had applied to various universities, but UC Davis was the only one to encourage her intention to combine biomedical engineering with neuroscience.
"When visiting Davis, I just felt the environment was super supportive and wanted me to succeed. Other schools said, 'You can do that, but we don't recommend it.' While UC Davis said, 'We'll help you do that,'" she said. "Being able to work in the TEAM Lab, PEP Lab, and NeuroRobotics Lab gave me tangible and necessary skills for my success. UC Davis allows students the freedom to create their own course curriculum and explore education outside the boxes previously set by science."
Friends and family inspired and supported her research passion
Lamb expressed deep gratitude to the people in her life who were brave enough to share their mental health challenges with her.
"I would not be here without them," she said. "And, if I can help the next person –  if I can stop another high school or college student from watching a person in their life negatively and drastically change due to the failing of the medical system – I will feel I have paid it forward. It feels amazing that I've been able to have the opportunities I've gotten to succeed and I will do everything I can to make sure they aren't wasted."
Secondary Categories