Expanding Alzheimer's Diagnostics and Treatments with Extracellular Vesicles
Alzheimer's is a disease without a clear diagnostic test nor a cure. However, researchers are developing new techniques and methods every day and in Professor Aijun Wang's Lab at UC Davis, Biomedical Engineering graduate students Leora Goldbloom-Helzner and David Wang are exploring potential diagnoses and treatments for Alzheimer's patients using extracellular vesicles.   
Extracellular vesicles (EVs) are essentially transport carriers that deliver necessary packages, such as proteins or metabolites, to specific cells in the body. Goldbloom-Helzner says to think of EVs as an international postal service between cells near and far.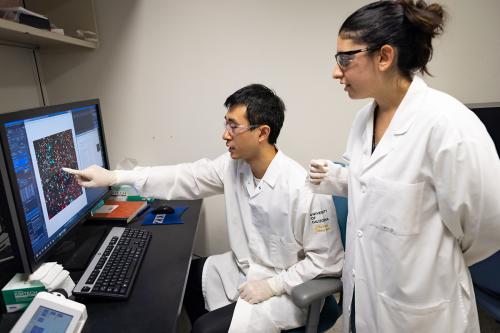 "When cells are right next to each other in the body, they can communicate by direct changes in their behavior through molecular transfer," she said. This means that when in contact, the cells can undergo changes in direct response to molecules moving from cell to cell.  
"The actual act of cells touching each other can set into motion a snowball effect that changes the cells around them. However, if the cells are farther apart and in distress, they need to send out signals using EVs to say, 'hey! I need help!'" 
After making a call to action using EVs, these cells then receive cargo via other EVs and the signals that are encapsulated in those vesicles help the cell decide which actions to take next.  
"When they receive that signal, they know either to migrate to that area to help with regeneration or to send other vesicles that could help to treat cells that initially required assistance," she said. 
Two Uses for Extracellular Vesicles 
Just like the postal service carries essential information like bank statements and voter guides, EVs also carry something vital: biomarkers of disease. 
"EVs contain labels on their surface and in their interior that can be used as biomarkers to see if there's a disease state or not," said Wang. "This cargo can take on a variety of forms such as proteins, RNA or DNA—biomolecules that you would find in the human body which are changed or only expressed in Alzheimer's disease." 
Wang's current project focuses on both these components: detecting and treating the disease.  
"[The goal is] to identify ways to detect Alzheimer's disease while also using EVs to have a targeted approach to center on something very specific—whether that's a specific type of cell or a specific process," said Wang.  
Early detection is crucial to slow the onset of the disease. However, due to the imprecision of current detection methods, it is often difficult to detect Alzheimer's before the damage has begun.  
As with fingerprints, no two human brains are exactly alike which means the onset of Alzheimer's disease will drastically differ from one patient to the next. With a more specialized approach, EVs can be easily modified or loaded with therapeutic cargo. This potentially allows the vesicles to treat the physiological symptoms of Alzheimer's and further slow or stop disease progression without off-target effects.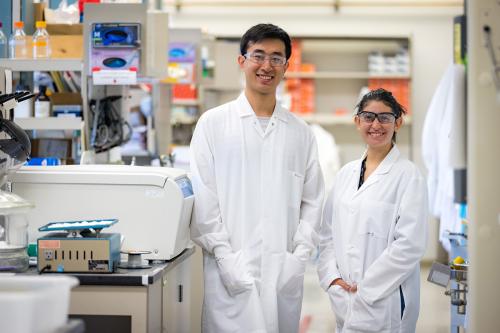 While Wang focuses on detection and treatment, Goldbloom-Helzner's work expands on the use of EVs by adding a specific targeting molecule to chemically modify the surface of EVs. The project stems from the issue that when EVs are injected into the body, it can be difficult to ensure they end up where they are supposed to go. However, by modifying the surface of EVs, researchers can be more confident they will end up where they are needed. 
The six current drugs approved by the FDA to treat association with Alzheimer's all only work to treat specific symptoms of the disease rather than the disease itself. If successful, having a robust detection system and a targeted treatment using EVs would be a way to revolutionize care for Alzheimer's patients. 
Both Wang and Goldbloom-Helzner hope to finish graduate school in the coming years, then pursue a research career in industry and a career in academics, respectively.
Primary Category
Secondary Categories