UC Davis BME Chair Receives TERMIS-AM Senior Scientist Award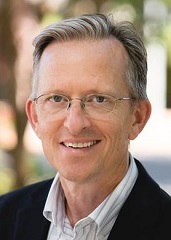 Steven C. George, Professor and Chair of the Department of Biomedical Engineering, is the latest recipient of the TERMIS-AM 2020 Senior Scientist Award. The award is based on an individual's significant contributions to the tissue engineering and regenerative medicine field.
George received his bachelor's degree in chemical engineering in 1987 from Northwestern University, M.D. from the University of Missouri School of Medicine in 1991, and  Ph.D. from the University of Washington in chemical engineering in 1995.  He was on the faculty at the University of California, Irvine for 19 years (1995-2014) where he pursued a range of research interests including pulmonary gas exchange, lung mechanics, vascularizing engineered tissues, and microphysiological systems ("organ-on-a-chip"). The NIH FIRST award in 1998 and the CAREER and Presidential Early Career Award for Scientists and Engineers (PECASE) from the National Science Foundation in 1999 have previously recognized his work. 
While at UCI, he served as the William J. Link Professor and founding Chair of the Department of Biomedical Engineering (2002-2009), the founding Director of the Edwards Lifesciences Center for Advanced Cardiovascular Technology (2009-2014), and was the founding PI on a T32 predoctoral training grant from the National Heart Lung and Blood Institute entitled "Cardiovascular Applied Research and Entrepreneurship" (CARE).  In 2014 he transitioned to become the Elvera and William Stuckenberg Professor and Chair of Biomedical Engineering at Washington University in St. Louis, and in 2017 moved to UC Davis. 
George became Chair of the UC Davis Department of Biomedical Engineering in January 2019.  He was elected a fellow in the American Institute of Medical and Biological Engineering (AIMBE) in 2007, a fellow of the Biomedical Engineering Society in 2017, has published more than 140 peer-reviewed manuscripts, and has co-founded two early and active start-up companies (Aracari Biosciences in 2019 and Immunovalent Therapeutics in 2017). 
His work is currently funded by grants from the NIH that focus on creating tissue engineered models of the cardiac, pancreas, bone marrow, and cancer microenvironments using induced pluripotent stem cell and microfabrication technology.
"This is such an honor to be recognized by TERMIS-AM and my colleagues with the Senior Scientist Award. As we all know, it takes a huge team of dedicated people in any given lab to achieve any meaningful results. I am so grateful to all of the trainees and professional staff that have worked with me over the past 25 years – this recognition is for them."
George will present his work via a Zoom webinar on December 8th, 2020 and will be presented with the award at the 2021 TERMIS-AM conference in Toronto, Canada in August 2021.
Primary Category
Tags