First-Generation Faculty Eduardo Silva: Mentorship Makes a Difference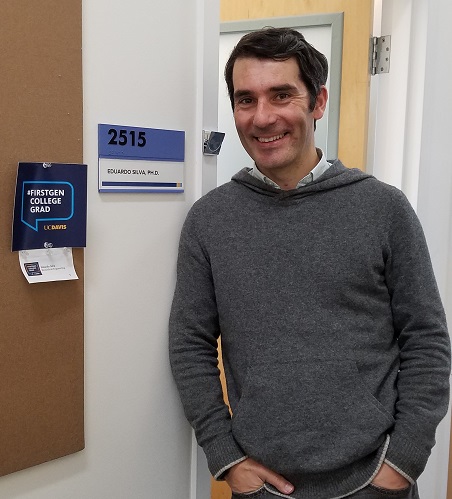 Students see two things before they walk into Eduardo Silva's Genome and Biomedical Sciences Facility office: a nameplate stating his official title – Eduardo Silva, Ph.D. – and a colorful square with a proud proclamation: #FirstGen College Grad.
These two signs are true signs of success for Dr. Eduardo Silva, an associate professor in the UC Davis Biomedical Engineering Department: While Silva is always eager speak about the latest polymeric biomaterial therapies to help heal patients, he's equally thrilled to share his own first-generation college-student experience, wisdom and advice with UC Davis students – 42 percent of whom also are first-generation college students -- so they, too, may be supported and successful on campus and in the larger community.
"With nearly half of our students as first-generation students, it's important that our public university reflects that diversity and supports this population," he said. "As teachers, we are closest to the students and, as first-generation faculty, we understand and have experienced the struggles they have both here and at home. It's up to us to be visible as first-generation faculty, to recognize these issues facing our students and to motivate them to pursue their goals."
SUPPORT ALONG THE ACADEMIC WAY
Silva grew up in Portugal's beautiful northern region of Vila do Conde surrounded by sun, sea and history. But even in this storybook setting, people often must make sacrifices to support their families.
"My parents both came from very large families: 14 and 13 children each," he said. "When you come from such big and poor families, you are there to work – to really help with a job – to support your parents and siblings."
Despite the personal environment of poverty, Silva's parents both supported education: Even though his mother went on to work in the family restaurant rather than continuing her own studies, she knew education for Silva and his two siblings was key.
Building on that general parental support was the personal guidance and specific academic exposure he received from others during his education journey, including through three key mentors:
Adilia Mesquita, physics teacher at Via do Conde's Escola Secundária José Régio – This high-school teacher encouraged Silva and other students' interest in science in engaging ways. "One of the ways she taught was by using theater," said Silva. "She used theater to act out things like Archimedes' principle of water displacement and buoyancy -- the excitement and humor of him running out of his bathtub to share his discovery."
Mario Barbosa, professor at Portugal's University of Porto – Professor Barbosa exposed Silva to different forms of engineering: exposure that his family could not provide due to their economic circumstances. "I didn't know what exactly I wanted to study, but I knew what I didn't want to study: Everyone who was looking at mechanical engineering like me was studying cars and the car industry, and I never wanted that. But during my last year of undergrad, Professor Barbosa in applied chemistry and materials science was just starting to look at metals and how they corroded in the body, and he exposed me to the study of biomaterials and encouraged me in that engineering field."
David Mooney, professor at University of Michigan/Harvard University – Dr. Mooney was Silva's Ph.D. advisor whom Silva followed from Michigan to Harvard as a lab member. "Even though I went from warm Portugal to Michigan snow – a move that was another major cultural change for me as a first-generation student -- I always knew this was the person I wanted to work with," said Silva.
And with these mentors and other academic guides would often come a pleasant – and welcoming -- surprise:
"I saw these accomplished people as role models, and then I would discover that these same role models were first-generation college graduates or faculty themselves," added Silva. "These critical role models kept me going!"
LOOKING BACK AND PAYING IT FORWARD
Speaking with gratitude about these past mentors, Silva shares how they supported and strengthened his commitment to college, teaching and research, even when others didn't – and still may not -- understand.
"You hear, 'High school is good enough;' you go home for a visit and hear your old friends say that college is either not worth it or that it's so easy anyone can do it," he said. "Even family members who haven't been exposed to higher education -- like some of my own family members -- might not understand you or be able to relate."
But now as one of more than 400 UC Davis First-Gen Faculty members, Silva seeks to make a difference for new generations of first-gen students.  
"I remember the support and exposure I received and I share that with students today. I tell them, 'Yes, it's possible -- yes, you can be me.' 'Don't be afraid – follow your passion.' And through the journey, you create networks and relationships, almost like another family, that stay with you – and support you -- for life."
Are you a first-generation student, staff member or faculty like Eduardo? The UC Davis First Generation Initiative wants to hear your story -- contact them today!
Primary Category
Tags