Biomedical Engineering Undergraduate Student Neeraj Senthil Becomes National Goldwater Scholar 
Quick Summary
UC Davis biomedical engineering undergraduate Neeraj Senthil selected as a national Goldwater Scholar
UC Davis biomedical engineering (BME) student Neeraj Senthil has been selected as a national Goldwater Scholar for the 2022-23 academic year. The Scholarship Program honoring Senator Barry Goldwater was designed to foster and encourage outstanding students to pursue research careers in natural sciences, engineering, and mathematics.  
This year, the Barry Goldwater Scholarship and Excellence in Education Foundation, in partnership with the Department of Defense National Defense Education Programs, announced 417 awards across the United States.  
An Algorithm to Analyze Vomocytosis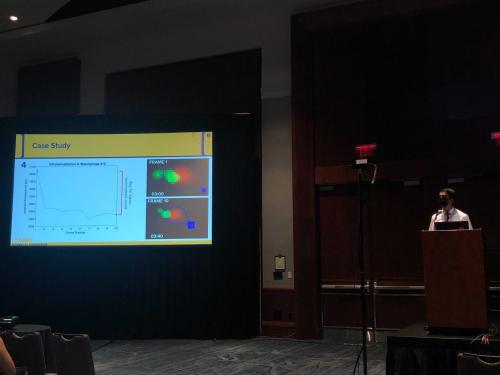 Senthil earned the Goldwater Scholarship for his work on vomocytosis, a somewhat mysterious process by which a particular fungal pathogen can escape intact from within our immune cells. Since vomocytosis does not harm host immune cells, Senthil thinks researchers could harness this phenomenon to deliver therapeutic agents to specific locations in the body while minimizing undesirable side effects. Achieving targeted drug delivery across the blood-brain barrier or to the lymph nodes, for instance, could significantly advance our ability to treat disease.  
"So far, many of the treatments available for autoimmune disorders suppress the entire immune system, which leaves us vulnerable to disease. So we're hoping to get more nuanced and sophisticated in the manner by which drugs are delivered to the body," Senthil says.  
His research essay for the Goldwater scholarship was about a computer algorithm he developed that analyzes time lapse microscopy videos to detect the presence of vomocytosis. "This algorithm takes a task that took us hundreds of hours and reduces it to about ten minutes," he said.
Last October, Senthil presented this algorithm, for which he has earned a provisional patent, at the international Biomedical Engineering Society (BMES) conference. He also serves as Director of Research for UC Davis' chapter of BMES, connecting undergraduates with research opportunities on campus. 
Immunomodulatory Therapies for Rheumatoid Arthritis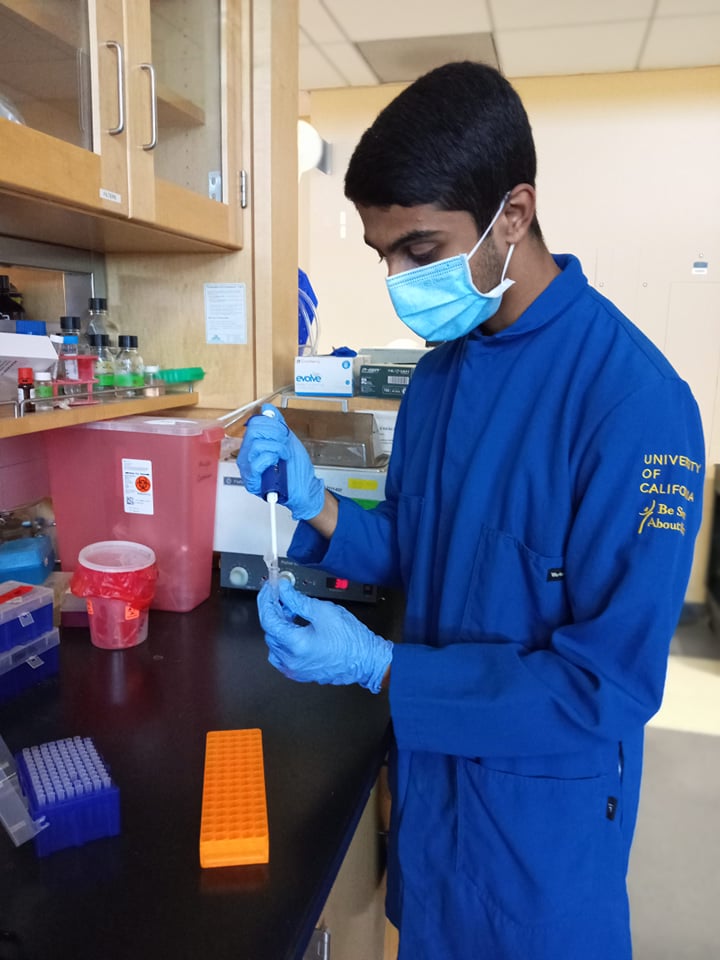 In addition to his research on vomocytosis, Senthil works on another project in Dr. Jamal Lewis' Immuno-modulatory Biomaterials Lab (IMBL) to create therapeutic materials for rheumatoid arthritis.  
Our bodies produce new specialized immune cells in primary lymphoid organs such as our bone marrow and thymus. Each clone of these cells has a different and randomly constructed receptor that can bind to a specific antigen. Occasionally, a cell's receptor will cause it to recognize an epitope present in our own body's tissues and destroy any target present with this molecular structure, even if it's not foreign.  
Usually, those aberrant immune cells get screened out within the thymus through a special selection process and are not allowed to enter the rest of the body, but sometimes they escape and cause autoimmune disorders. This screening process may become less accurate as we age, which may explain why older people are more likely to develop rheumatoid arthritis.  
Multiple genetic and environmental factors have been associated with an increased risk of rheumatoid arthritis. Right now, we can only treat symptoms, such as joint inflammation that eventually result in bone erosion and joint deformity. "We're developing particles to cure the condition, not just mitigate the pain," says Senthil.  
The Lewis Lab is building an injectable microparticle system to correct the immune imbalance that propagates rheumatoid arthritis. "In this condition, we have a disproportionally high number of aggressive, inflammation-causing Th1 and Th17 cells that amplify our immune response against autoantigens compared to the number of regulatory T cells. Our therapy influences the immune system to correct this imbalance via production of more autoantigen-specific regulatory T cells," Senthil says.  
The Lewis lab's therapy aims to restore a homeostatic balance in the immune system and thus reduce the likelihood of the immune dysfunction that can cause autoimmunity. Their injectable treatment is in in vivo trials, and they see great potential.  
Headed for Pediatric Neuroimmunology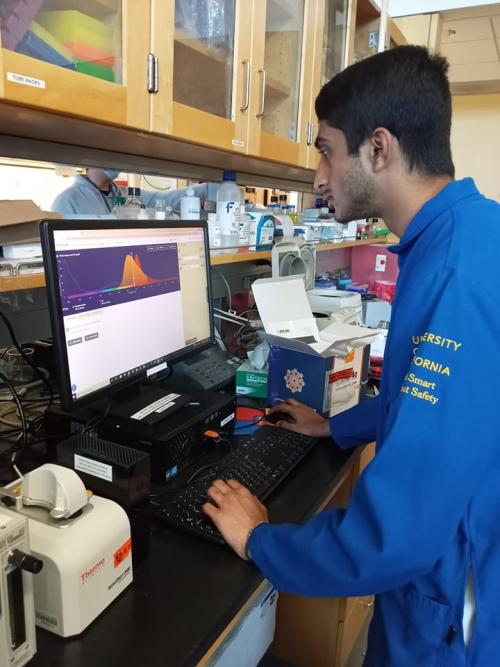 Senthil's ultimate goal is to practice pediatric neuroimmunology. "I love working with children! I've taught kids martial arts for over seven years and am part of the Best Buddies volunteer program at UC Davis," he says. A subset of his martial arts students have been neurodiverse or have had neurological disorders. Learning to communicate and work with those students has inspired his scientific research in immunoengineering and his future interests in neuroimmunology.
"In recent years the etiology of many neurological disorders has been traced back to an immunological component, as the immune system permeates essentially all of the human body. It is reasonable to expect that the repercussions of something going wrong in the immune system are serious and can impact a variety of different systems," says Senthil.  
Thanks and Appreciation 
Senthil would like to thank those who have greatly inspired him and pushed his intellectual boundaries, including Dr. Jamal Lewis, Dr. Melissa Cruz-Acuña, Noah Pacifici, Allen Tu, and Riley Allen. Also, he extends immense gratitude to Raquel Collier and Dr. Arturo Orjalo, with whom he worked as a cell line engineering intern at Genentech last summer. 
Senthil appreciates the high level of synergy among mechanical, biomedical, electrical, and computer engineering at UC Davis. He believes that the interdisciplinary nature of BME is what makes it so special. He also affirms that UC Davis' BME department uniquely helped him realize his dreams. "The faculty and professors in the BME department are truly world-class. Though we're a large school, the professors provide fantastic mentorship and encourage undergraduates to pursue research opportunities," he says. 
The Undergraduate and Prestigious Scholarships office at UC Davis assists high-achieving students in applying for 30 prestigious national and international scholarships including the Barry M. Goldwater Scholarship.  Students who are interested in applying to the Goldwater Scholarship are encouraged to contact Prestigious Scholarship Advisor Scott Palmer.
Primary Category
Secondary Categories